NIAGARA FALLS BIRTHDAY PARTIES, GROUP EVENTS, AND EDUCATIONAL ADVENTURES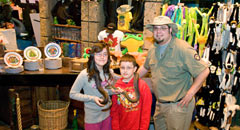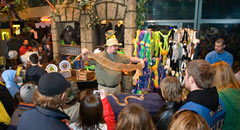 RAINFOREST CAFE NIAGARA FALLS BIRTHDAY PARTIES
The Niagara Falls Rainforest Cafe is the perfect place to celebrate turning one or one hundred! With an unbeatable décor featuring animatronic gorillas, elephants and more complemented by the soundtrack of the jungle this is one children's birthday party celebration you will not have to decorate for.
BIRTHDAY MENU
For a kid's birthday party meal that they will always remember the Rainforest Cafe has chosen the most popular menu items including appetizers, main dishes and a special birthday dessert for your guests to enjoy.
BIRTHDAY ACTIVITIES
With so much to see at the Rainforest Cafe including the large Shark exhibit, salt water fish tanks, animatronic gorillas, elephants and a thunderstorm guests at your children's birthday party will have plenty to be entertained by.
NIAGARA FALLS GROUP EVENTS
The Rainforest Cafe is the perfect destination in Niagara Falls for team building activities and educational experiences. Allow the Rainforest to plan an outing that will inspire, challenge, and educate your group. Group menus are available, for more information please complete the form below, or contact our Sales Department at 905-374-4444 ext. 4910 or sales@niagarafallshotels.com.
EDUCATIONAL EXPERIENCES
Take an educational adventure that your students will never forget! This complimentary program is available when joining us for lunch in our tropical rainforest setting. Our Educational Program is an exciting addition to your curriculum.(Grades K – 6). It combines learning about our planet's environment in the natural habitat of the Rainforest. Learn about: World's Tropical Rainforests • Endangered Species • Conservation Efforts • Care Of Aquatic Creatures
Following the tour, your students can enjoy a choice of one of three entrées, dessert and unlimited soft drinks.
Please contact us for further details and availability at sales@niagarafallshotels.com or call (905) 374-4444 Ext. 4910
EDUCATIONAL MENU
The Rainforest Cafe would like to invite your school group to stay for lunch. Special lunch menu's are available that include one of three entrée's, dessert and unlimited soft drinks.
Contact Information
Please contact Sales at 905-374-4444 ext. 4910 or sales@niagarafallshotels.com
Request a quote for your Niagara Falls Birthday Party or Group Event at the Rainforest Cafe Niagara Falls